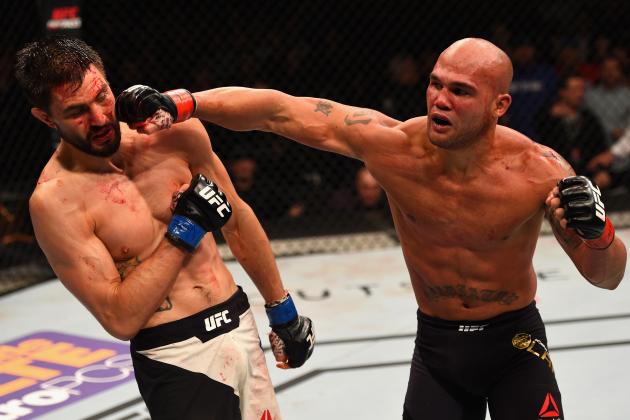 Yeah, yeah, the judges' decision was unsatisfying to many, but let us not forget what really matters: Robbie Lawler vs Carlos Condit was absolutely insane, a back-and-forth fight that culminated in one of the craziest rounds any of us has ever seen. Lawler put on a vintage performance–maybe a little too vintage in some ways–and Condit fought masterfully. We break it all down on today's episode of Heavy Hands.
After that, it's on to the night's other highlights. Namely, Dustin Poirier exceeded expectations, as did his entire fight with Irish Joe Duffy. Poirier's wrestling and MMA-integrated grappling has come along in leaps and bounds, and it brought him to victory against an extremely tough, if somewhat untested, opponent. Albert Tumenov and Lorenz Larkin put on a tremendous fight as well, with both men exceeding and defying expectations.
All of that and more on this latest episode of Heavy Hands!
To download the show directly, right-click and save this link.
You can also subscribe to the show on iTunes, or on Stitcher. Or both! Why not?
We are funded by listeners like you! To support Heavy Hands, head over to Patreon and have a look at our rewards. No contribution is too small.